LeadVertex.ru is not a CPA network, we do not have a team of our own webmasters who will advertise your sites and provide traffic. We do not advertise offers (products). We provide an engine to create your own small CPA. The engine allows you to organize your own mini cpa network.
If you don't plan to work with your own team of webmasters, but will work with advertising or CPA networks (affiliate networks), you will use a personal affiliate program. Therefore, it is important to know how it works.
Key features
It is not difficult to find a personal affiliate program in your personal account.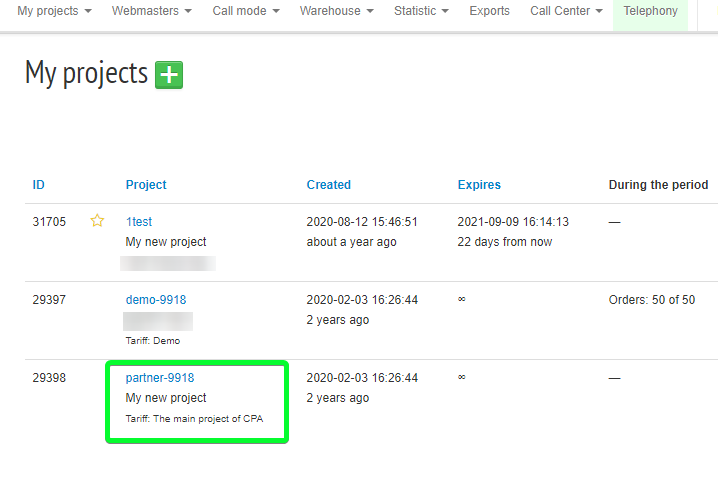 You have your own affiliate website. It is available at an address similar to https://partner-1.leadvertex.info/. But here in the address you can see "partner-1". In your own address you'll have another 4-6-digit number instead of "1". This number is your personal ID in the LeadVertex service. And the affiliate program https://partner-1.leadvertex.info/ belongs to an entrepreneur with ID 1, specifically our test account.
If you click on the name "partner-xxxxx" in your account (personal cabinet) in the list of all projects, the site "My affiliate program" will open with a list of all your projects in the table (here they are called Offers).
Please note that at the start of work, a test project Demo is displayed on your affiliate program website.

You can hide it. To do this, enter the Demo project from your account - Settings - Affiliate program - Hide project from publishers - mark the option and save the changes. In 15 minutes, the changes will be applied.
At the top of the page you can see buttons "Home", "FAQ" and "Contacts". Here you can watch additional information about the user's personal affiliate program. Below, you can find instructions on how to fill in the information for these pages. For now we can skip this step.
On the top right there are "Login" and "Register" buttons. These buttons are needed for webmasters and CPA network representatives to connect to your project.
An entrepreneur can also use these buttons in order to register as a webmaster. It is necessary when you set up the integration between your website and LeadVertex project if using a restricted API type (API for webmasters)
How to invite webmasters
If you provide a webmaster with a link to your personal affiliate program, he will be able to register on his own.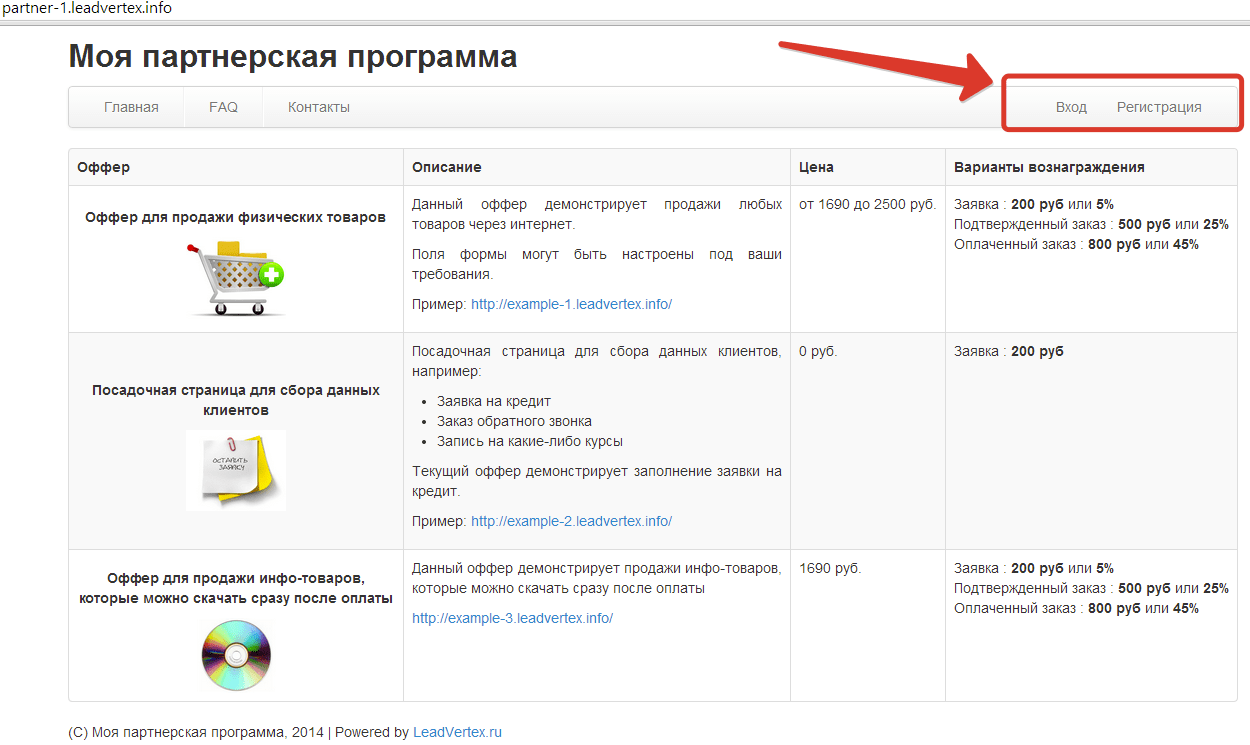 In addition to registration, you can invite a webmaster yourself to your account. To do it, you need to click Webmaster - Invite a webmaster - enter his email and he will receive an invitation to his email. Also, you can make a private registration (Settings in your account) and there mark "Webmaster registration by invitation only"
After registration, the webmaster gets his special personal account. This account allows the webmaster to make a personal link to your landing page to send traffic to your offer. It is important that the webmaster can view only those orders that came from him. The webmaster will not be able to view the statistics of all your orders and will not know how many webmasters are working in your projects. Also, the webmaster can see the statuses of rewards for its orders and statistics.
While confirmation of the order (or at another event), the webmaster will have a reward sum on his balance. We are talking about the history of the balance (accounting) in conventional units (you can mean any currency). So you don't have to worry about your balance in your personal account, funds from it will not be transferred to webmasters.