By Order Processing
Statistics by operators reflect the most significant indicators for the call center.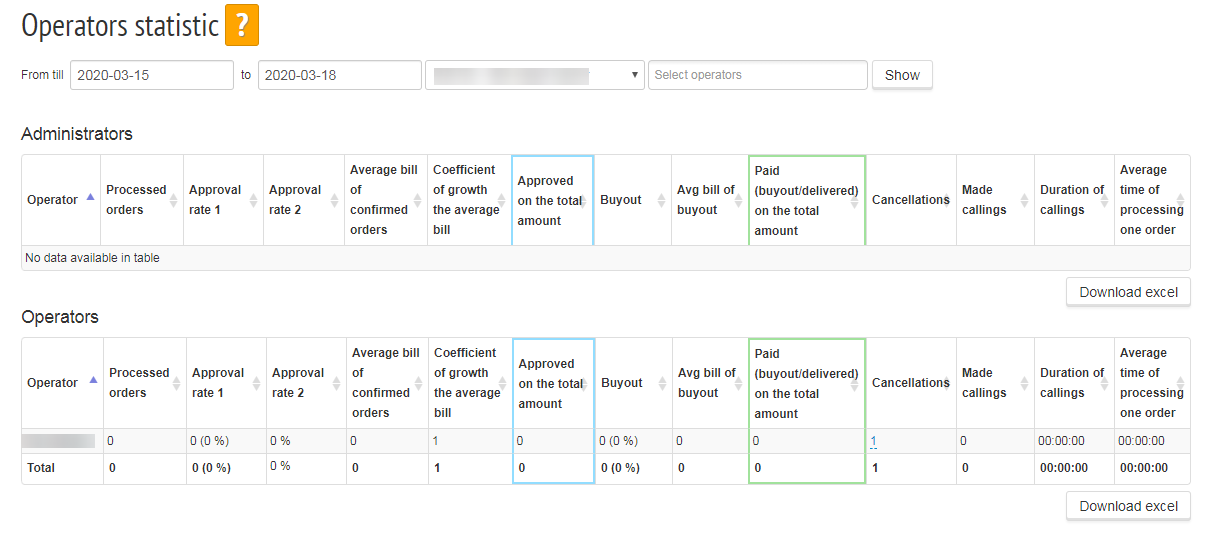 We will analyze each indicator separately:
Leads processed - how many orders were processed by the operator during the selected period. Processing is considered any change in the order, whether it is a change of status or data editing. If 5 changes are made over one order, this will be considered as a unit, since there is only one order. So you can assess the real load in leads for each operator.
Approve 1 - the number of orders accepted (transferred to statuses with the Accepted group) and a fraction of the total number of processed ones.
Approve 2 - pure approve according to the formula Approve / (Cancellations + Approve). Shows the ratio of accepted orders to the total number of accepted and canceled today, so that the number of leads that were called before the buyback or under-calls did not mix.
Average bill (accepted) - shows the average bill of orders accepted for the selected period.
Check growth factor - shows how many times the total price in the order has increased from the original price.
Accepted for the amount - shows the total amount of all accepted orders, that is, the potential profit of your company.
Buyout - how many orders confirmed by this operator were subsequently bought out. It is useful because many operators confirm orders in the pursuit of an approve, often make fakes or impose courses on customers, after which orders are usually poorly redeemed.
Average bill (purchased) - shows the average bill of purchased orders for the selected period of orders.
Purchased in the amount - shows the total amount of purchased orders confirmed by a particular operator. In other words, this figure shows the real profit that your operator brought you.
Calls made - the number of calls made for the selected period is calculated, all calls are taken longer than 25 seconds.
Call duration - shows how much time the operator communicates with the client in voice. It works if telephony is on.
The average order processing time - how much the average operator communicates with the client.
It is important to understand that each of these indicators should be evaluated in conjunction with others. If there is a lot of talk, but the average check is weak, then the operator simply likes to chat with the client is useless. If a high average check. but a weak buyback, that means the operator imposes sales on the client.
If you need details with specific order IDs to build a report on the operators' work, you can click on the number of confirmed or bought out orders and see their ID's.