Orders transfer inside LeadVertex
Participants of integration and scheme of work
The order is received by the exporter and transferred to the importer for a fee. Everything processing inside LeadVertex
Exporter - the one who transfers leads from his account to another user
Importer - one who accepts leads from the exporter in his account and processes them
---
How to set up: step by step
Step 1. The exporter (lead sender) is registered as a webmaster in the personal affiliate program of the importer (receiving lead)
Step 2. The importer enters his offer (where the leads will go) - Webmasters - Personal webmasters' settings and opens the profile of the registered exporter – Put the tick for "Allow import of orders from another offer" and specifies the exporter's offer id (you can ask our support service)
On this page, the importer sees a hint on a blue background and dictates data to the exporter.

Step 3. The exporter switches to his project (from which the leads will be transferred). Further Settings - Modules - Exporting orders to other projects - Add project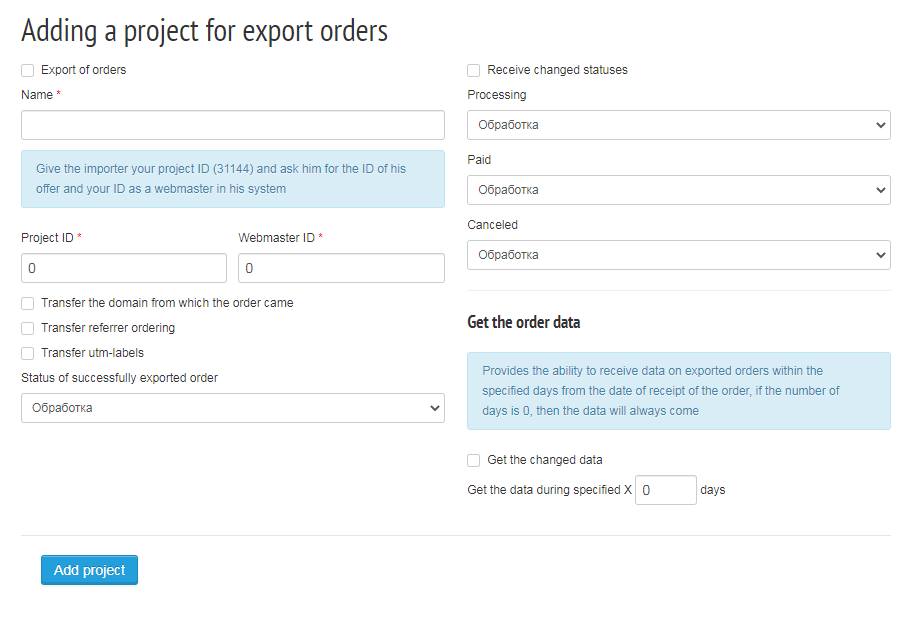 Mark the top tick "Export orders", enter the name, on the blue background the id of the offer - you need to transfer it to the importer. Enter the data from the importer in the id columns of the offer and webmaster.
Step 4. Integration is configured, click "Add Project". To enable auto-export of orders, open Settings - Modules - Export orders to other projects - Auto-export. Keep in mind that with manual export all orders within the status are uploaded.
Options
Transfer domain / referrer / order tags. If you enable this ticks, the order will go to the importer with all the data marked.
In the "Status of successfully exported order" column, select the status where the order will be moved after export (it is convenient to create the "Exported" status and assign it to the "Processing" group)
The option "Receive changed statuses" means that the status changes of the order on importer's side are transferred to the exporter, who sees if he received a reward for this order.