Telephony Connection

You just need a couple of clicks, to configure calls directly from the browser or from any desktop client. You need to go into your personal account, click on the "Telephony" button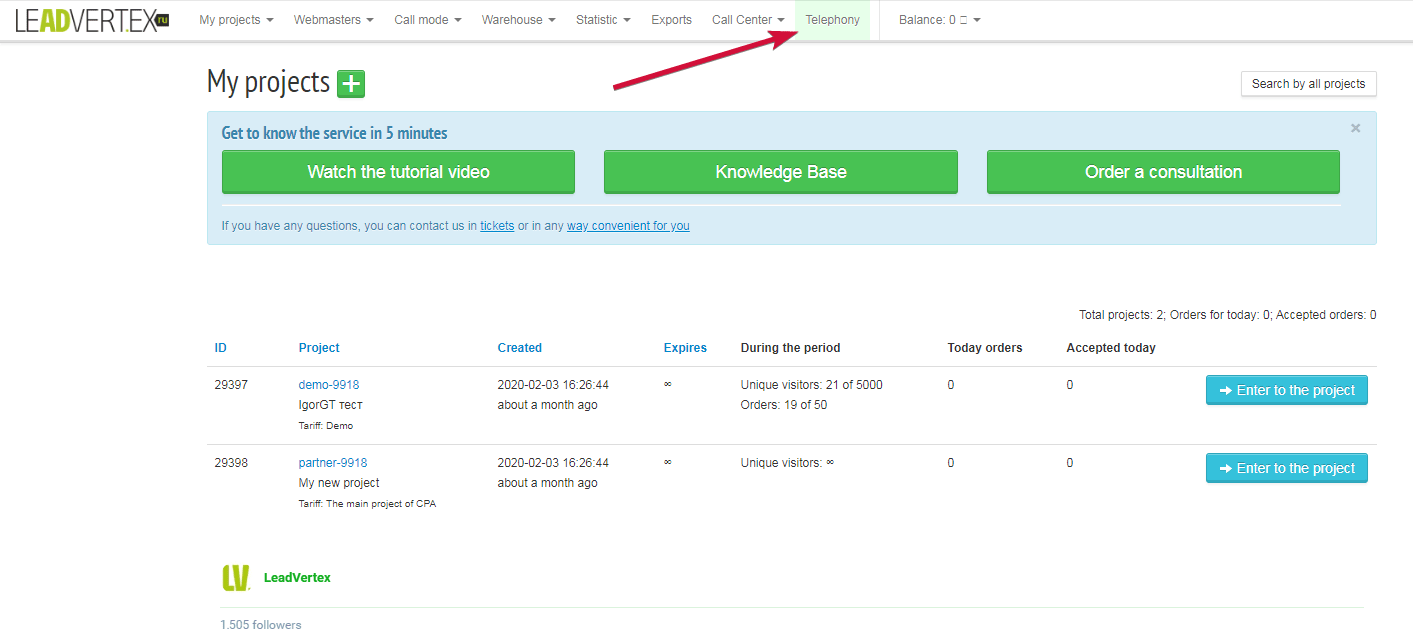 and fill in the data to activate telephony. All fields are required.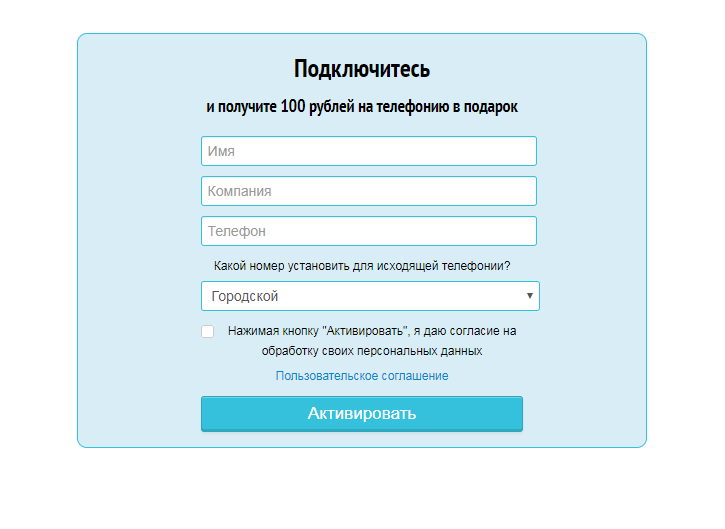 After activation, a page with your A-number will open and 100 gift bonuses will be credited to the telephony balance. New options will become available when you click on the "Telephony" button:
Fill up balance - allows you to top up the telephony balance and make calls. Important: telephony balance and system balance are not connected in any way.
Balance History - a page opens where you can see all the expenses and replenishment of the telephony balance.
My A-numbers - a list of your numbers from which you will call opens.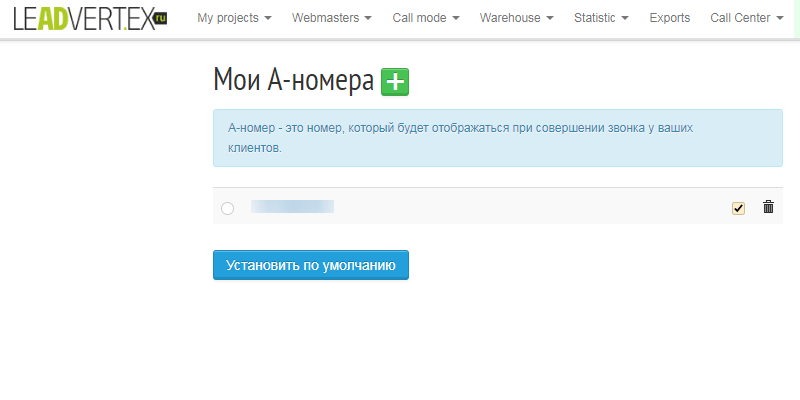 Service cost
You can familiarize with our telephony rates here. If you have difficulty connecting or choosing a tariff, submit an application on the Telephony tab or contact our support team.
When you connect our telephony, you will be provided with a free A-number, 100 rubles per balance as a gift.
Additional useful functionality
When telephony is connected, call recording and call statistics will be available, which displays the necessary indicators for analyzing work.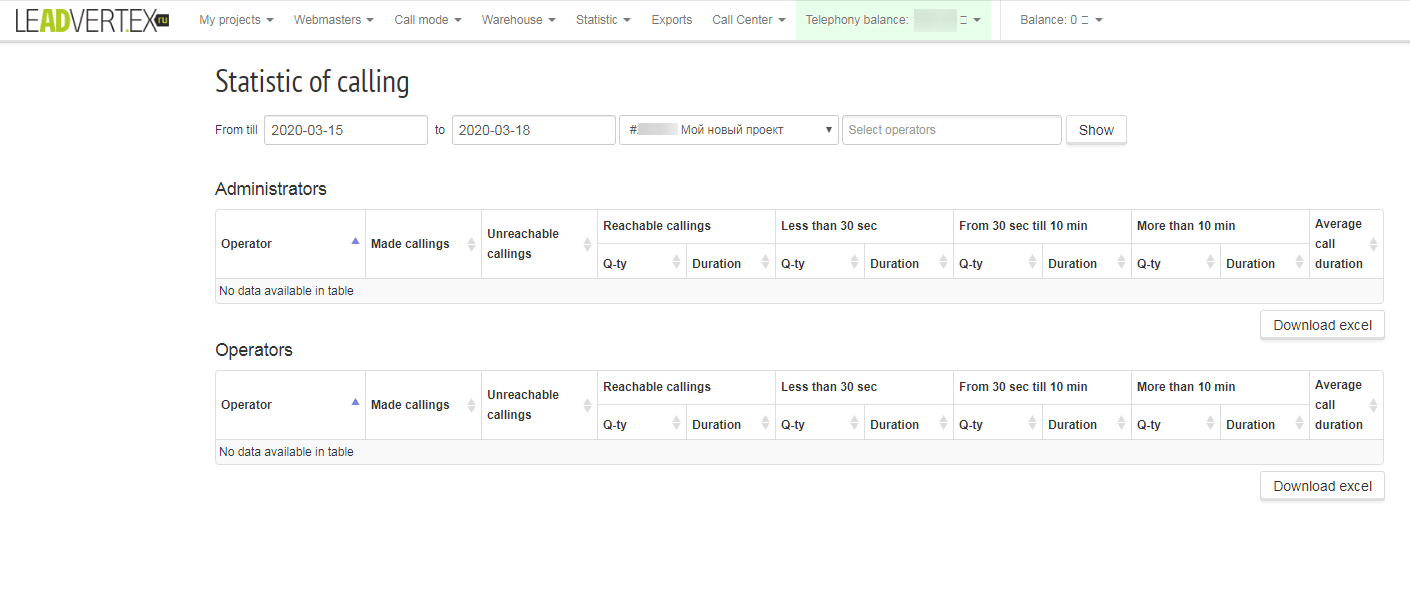 Call recording can be heard in the order card in the history or in the project - Settings - Telephony - Call History.
Our clients can download call records directly from the project, from the history of all calls or from the history of a specific order.
Records can be listened to in 1x, 1.5x and 2x acceleration modes.
Users of our PBX can use robotic dialing. When using our connection, you get 1000 calls of the robot and the setting of functionality as a gift.
---
Configure another SIP provider
If your tariff supports the connection of any SIP provider, then you can connect a third-party provider for calls within the CIS, but first you need to contact those. support for enabling the telephony module. If the module is already activated, then you need to enter your project - Settings - Telephony - Telephony. And enter the necessary settings. In case of questions, you can contact us via tickets, we will help you.

Outgoing telephony from browser and softphone
There are 2 ways to make calls. Both methods allow you to initiate a call in one click directly from the browser, both write recordings of conversations. Each of them has its advantages and disadvantages.
Browser Call
Advantages:
It does not require additional software and settings. All you need is any modern browser.
No problem with double NAT's
Disadvantages:
A long call is initiated (3-5 seconds longer than the desktop client)
There is no way to configure software noise reduction and other parameters that are in desktop clients
Call through the desktop client
Advantages:
A call is quickly initiated
It is possible to configure noise / echo cancellation
You can find any sip dialer that suits your needs
Disadvantages:
Requires additional settings (below is an example for X-Lite)
There may be problems with dual NAT's
The method of making the call is up to you. If you have telephony configured, then when editing any order, you will see a green button with a phone number and a drop-down list with call options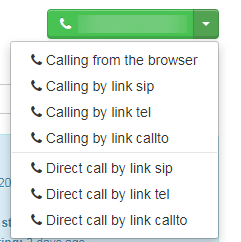 On your first call, you need to choose the default call method. To do this, click on the arrow with a drop-down list and select the option you need. The first option "Call from the browser" does not require special settings. Other options require the installation of some desktop client.
The selected option will become the default option, and will be called up by pressing the green button with a phone number and when the call is automatically initiated when the order is opened with the button with the phone icon.