What allows Marquiz module.
Marquiz - Functional quiz constructor.
Quiz - short step-by-step survey
Marquiz allows you to conduct surveys, analyze clients' responses and collect their contacts. Passing a quiz allows a potential client to choose the right product or service much faster than if the buyer searches for the position of interest himself in the site's catalogs.
Instructions for setting up the module
To connect the module you need to register on the website www.marquiz.ru and create a quiz. Creating a quiz takes 6 easy steps.
After the quiz is created and installed, you need to set up the transfer of orders from the quiz to your LeadVertex project. To do this, open your project - Settings - Modules - Marquiz.

All you need at that step is to copy the special URL for importing orders to the project and enable the module.
After the URL is copied and the module is enabled, return to Marquiz. Open the quiz editing menu and find the "Quiz settings" block at the bottom. Here you will see the "Integrations" section.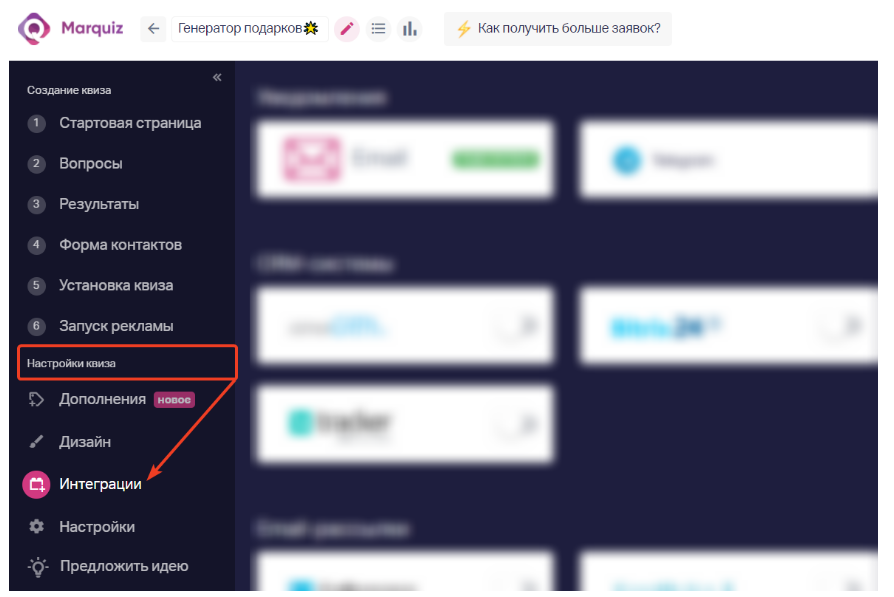 Go to the "Other" section and select the "Webhooks". In the new window, add a new webhook by inputting the URL you copied from LeadVertex in a special form.
Now you need to save the changes and test the setting.

All orders will be transferred to the project on behalf of the administrator (entrepreneur).
Orders can be transferred to the project with the following data:
Full name
Phone
Email
Referrer
Domain
ip
utm-marks
to certain fields. At the same time, to the "Comment" field will be transmitted: the name of the quiz; clients' responses and the results of the quiz.
If you want to enable the transfer of additional information about clients, you can enable several additional fields in the form field settings. You need to open quiz editing - Step 4 Contact form - Add field. AT the new page, on the right, fill in the settings for the new field, including the "Key" option.
Here are the keys you can use:
country - country
region - region
city - city
address - address
house - house
flat - flat
quantity - quantity
additional1 - additional25 - additional fields from field 1 to field 25.
Pay your attention that the field type in LeadVertex must match the type in Marquiz, where there are restrictions on the use of fields.
If orders should be sent on behalf of a specific webmaster, the webmasterID parameter must be included in the link. For example, link https://mrqz.me/1234567890 when adding webmaster ID 5 becomes the following
https://mrqz.me/1234567890?webmasterID=5

Have any questions? Text to tech. support or online chat right from this page.