What is "Domain"
When you create a new project, you need to set a name for your new project. For the name there are some requirements - "The name can contain only numbers, symbols of the Latin alphabet and a hyphen". This requirement is explained by the fact that the name will participate in two processes:
Project name is a part of the project's url. Requests are sent to this url by third-party services to transfer any data, if integration is configured between a third-party service and your project. When you change the name of the project, the address of the project changes too, that's why if you have configured integration with the CPA network, your orders may be sent to the old address and will not reach the project.
the project name will form the domain name that you will receive from our service for free.
In simple words, domain - is the name of the site. Site - pages displayed on the Internet. Pages can be imagined as files that can be folded into folders and archived. For Internet users to see the landing page in a browser, you need to upload the archive with files to the catalog and link this catalog itself to the address where visitors will find your site.
We provide you a system domain for the landing page for free at all tariffs, except "Cold sales", where the transfer of orders to the project from the site is unavailable.
We have got a domain .leadvertex.info, subdomains from which serve as addresses of users' sites. When you create a project and give it a name, for example "example-3", you'll get your own example-3.leadvertex.info domain for your landing page.
What if more than one domain is needed?
Imagine an online store that sells backpacks online. The store has a simple one-page website with a laconic design, which presents the entire range of backpacks for adults and a separate page with an assortment of brighter design kid's backpacks.
You can combine pages into one site, and place the assortment at an address like take-backpack.leadvertex.info, and put the necessary directories in subfolders, and show the address to these subfolders as follows:
take-backpack.leadvertex.info/all - for any visitor
take-backpack.leadvertex.info/children - a page especially for children
on LeadVertex it is not always possible to place pages this way, for example, when the site has a showcase and a shopping cart. In addition, advertising sites for one page and sites for another page may differ significantly and visitors can be sent to two sites at once:
take-backpack.leadvertex.info
and
children.take-backpack.leadvertex.info
This is how we see the .leadvertex.info domain that belongs to our service. Another domain is take-backpack.leadvertex.info, which belongs to the user of our service, whose project in the system is called "take-backpack". And the subdomain children.take-backpack.leadvertex.info, which also belongs to the user of our service, is a subdomain or in another way a domain of the 4th order (level) and is intended for the second site of a user.
This method of placing sites is often used if you need to place different sites in one project, or you need to host the same site, but with different prices and promotions, or for visitors from different cities or countries.
Nowadays, many customers visit sites from, mobile devices, so users place the desktop version on a domain like take-backpack.leadvertex.info, and the mobile version on a subdomain that can be named whatever they want, like m.take-backpack.leadvertex.info.
Inside one project, which is called for example "take-backpack", you get a domain "take-backpack.leadvertex.info" and you cannot add, for example, "take-perfume.leadvertex.info" domain, because such a domain will belong to a user whose project is called "take -perfume ". But you can create a next level subdomain containing the desired name, like - perfume.take-backpack.leadvertex.info . It will work, but admit that it doesn't look pretty. Therefore, you can create a new project for the second offer with which you'll have another system domain or add your own domain.
How and where to manage domains?
If your tariff plan supports landing pages, then you can manage domains in the project in the Settings - Domain management.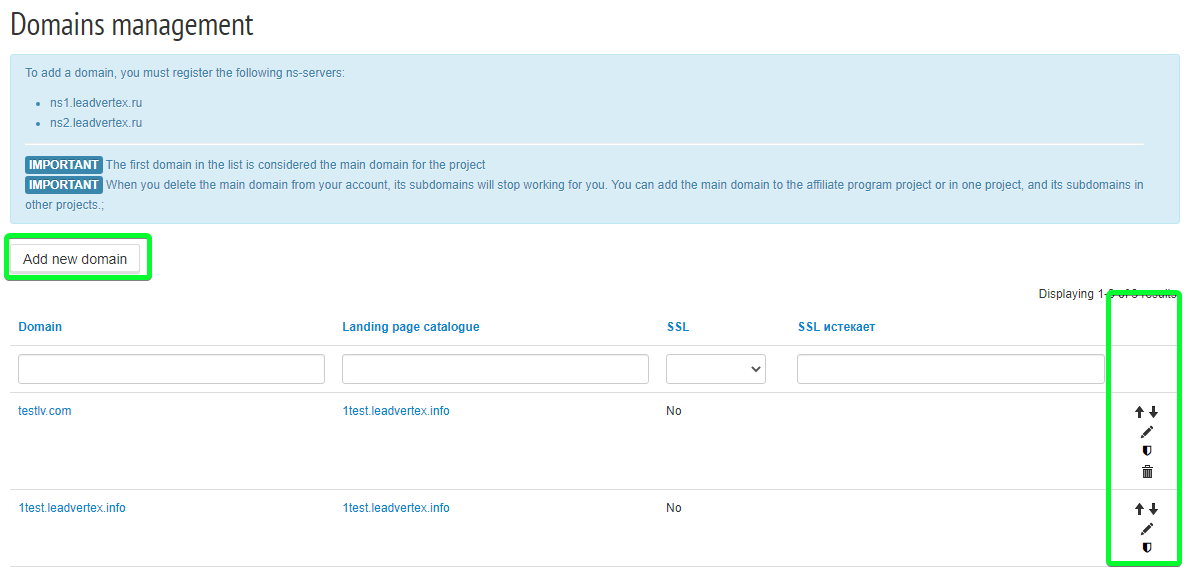 "Add new domain" Button

Allows you to add a new domain. When you click, a form opens where you need to set a name for a new subdomain or indicate your own existing domain.
In the "Directory with landing" selection, you choose which site should be displayed at this address. To be more precise, you choose a catalog where you already uploaded an archive or will upload the archive with your landing page. You can leave this field blank and then a new directory with a test design will be created, instead of which you can upload your own.
The fields on the right are optional and remain as archaism from the old template editor. They are needed to register the addresses of the website pages, where you can find the "Successful" page or an upsell page. You can leave it blank.
Arrows
Needed to move the domain in the list. They are used not only for aesthetic purposes or for convenience, but also used to put in the first place a main domain, which will be used as the address at which webmasters can find your project in your affiliate program.
Make sure that a working domain is in the first place in the list of domains. It is best to place a system (a free one) domain, as it will always work while your project is active.
Edit (pencil)
Opens a form similar to the one that opens when adding a new domain. Used mainly to switch directories. In other words, to select for which site this address will be used.
Delete (recycle bin)
Removes a domain from the list, but doesn't remove the landing page itself. It means that the address where you can find the site on the Internet is deleted, but the archive itself with the files in the catalog in your project will remain.